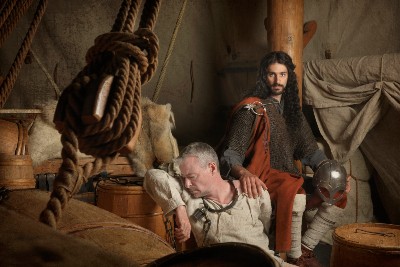 An artistic reconstruction of 'Southern European' Vikings emphasising the foreign gene flow into Viking Age Scandinavia.
Invaders, pirates, warriors – the history books taught us Vikings were brutal predators who travelled by sea from Scandinavia to pillage and raid their way across Europe and beyond.
Now cutting-edge DNA sequencing of more than 400 Viking skeletons from archaeological sites scattered across Europe and Greenland will rewrite the history books as it has shown:
Skeletons from famous Viking burial sites in Scotland were actually local people who could have taken on Viking identities and were buried as Vikings.
Many Vikings actually had brown hair not blonde hair.
Viking identity was not limited to people with Scandinavian genetic ancestry. The study shows the genetic history of Scandinavia was influenced by foreign genes from Asia and Southern Europe before the Viking Age.
Early Viking Age raiding parties were an activity for locals and included close family members.
The genetic legacy in the UK has left the population with up to six per cent Viking DNA.
Read the rest of this article...