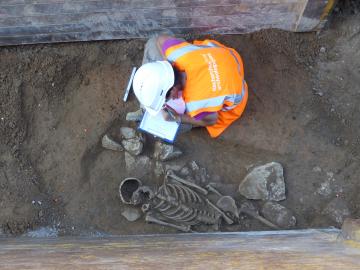 Cette fouille a permis de mettre au jour les vestiges de la nécropole dite « des Cordiers », datée de la période antique (Ier-VIe siècles). Ils documentent différentes pratiques funéraires gallo-romaines : les archéologues ont en effet découvert des aires de bûchers funéraires, des urnes cinéraires, des sépultures inhumées en coffrage de bois ainsi qu'un imposant sarcophage en pierre.
UNE NÉCROPOLE DES IER ET VIE SIÈCLES
La ville gallo-romaine de Mâcon appelée Matisco est bien attestée par des cartes et des textes antiques. Cette agglomération se développe à la fin du Ier siècle avant notre ère, dès la conquête de la Gaule, pour se mettre définitivement en place au milieu du Ier siècle. À Mâcon comme ailleurs, selon les lois et traditions antiques, tandis que l'urbanisation de la ville se fixe intramuros, les nécropoles s'installent à l'extérieur, le long des axes de communications.
La fouille réalisée par l'Inrap va permettre aux scientifiques de documenter la nécropole « des Cordiers », implantée aux abords de la voie menant à Lyon. Les opérations archéologiques réalisées entre 1979 et 1982 ont révélé les premiers vestiges de cette nécropole. Parmi eux, des crémations des Ier et IIe siècle, des inhumations couvrant la période gallo-romaine ainsi que le sarcophage en grès d'un guerrier franc du VIe siècle.
Read the rest of this article...